Congratulations to Zhongshan Jiali Fine Chemical Co., Ltd. for reaching a strategic partnership with CCTV.COM
ZHONGSHAN JIALI FINE CHEMICALS CO.LTD.
---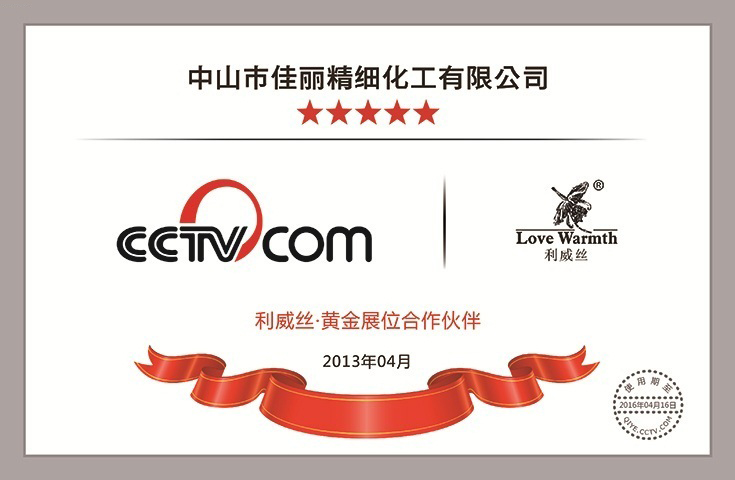 Recently, Zhongshan Jiali Fine Chemical Co., Ltd., a well-known national hairdressing brand "Liweisi", has reached a strategic partnership with CCTV.COM. This cooperation has a profound effect on the development of professional hairdressing brands entering the e-commerce market. The significance of this has paved the way for the brand upgrade of Zhongshan Jiali Fine Chemical Co., Ltd.
CCTV.com (CCTV.COM) is the official website of China Central Television, the No. 1 media website in China, ranking first among the six major official websites in the country. CCTV information has absolute authority. It is one of the best related information media platforms in China. Zhongshan Jiali Fine Chemical Co., Ltd. "Liweisi" brand successfully reached a strategic partnership with CCTV.COM, which is a powerful alliance of big brands. In this cooperation, CCTV.COM will assist in the promotion and display of Zhongshan Jiali's 20-year national brand "Liweisi" in an all-round way. In the promotion of materials such as packaging and product tags, the logo of "CCTV.com Investment Channel Strategic Partner" or "CCTV.COM Brand Promotion Partner" can be used. In recent years, "Liweisi" has developed rapidly with its excellent quality, advanced fashion insights and perfect after-sales service, and its brand awareness and influence have been continuously improved, which has attracted the attention of major media. This cooperation with CCTV.COM is a strong proof for "Liweisi" professional hairdressing brand. The industry reputation ranks among the top three professional hairdressing products in China: the product quality meets the standards of the United States and the European Union; it has successively won the "Most Competitive Excellent Brand in China's Beauty Industry" and "Excellent Brand of Professional Hair Products in China's Cosmetics Industry" , "Liweisi" brand professional hairdressing products of "the best national brand in hair dyeing category", strictly in accordance with the "ISO 9001:2008 international quality system certification, ISO 22716 cosmetics good practice certification, GMPC cosmetics passed by the enterprise" Good Manufacturing Practice Certification" Standard Production. (Company honor) "Liweisi" hair coloring cream adopts the international advanced five-ring technology formula, which is safe, mild and fragrant. The unique color consolidation factor firmly locks the pigment, penetrates deeply into the hair, keeps the color bright, saturated, and gorgeous. It contains water mink oil deep care factor, amino acid vitamin ingredients, and provides various nutrients needed by the hair, and the hair is healthy after dyeing. Shiny. At the same time, "Liweisi"'s hair products are very competitive, and have strong advantages in price, brand, quality, and post-service. The topic of environmental protection is a very hot selling point in recent years. The green theme extends to various fields, as if environmental protection has become a fashion trend. But instead of promoting environmental protection products with great fanfare, it is better to start with daily hair care and styling, so that environmental protection can really penetrate into our lives. "Liweisi" brand hair products are strictly tested by the relevant state departments, and have health licenses and production licenses, national makeup special character numbers, health quasi-character numbers and other big brand hairdressing products.
This strategic cooperation with CCTV.COM can be said to be a powerful alliance. CCTV.COM is the best stage for innovative companies to realize their brand dreams. In the industry, "Liweisi" hair products already have considerable The popularity of "Liweisi" brand chose to cooperate with CCTV.COM CCTV network, hoping that through the advantages of CCTV network, the huge customer group of "Liweisi" brand can rely on the credibility of CCTV.COM and CCTV network. The influence can be spread more widely, which enables professional hairdressing brands to enter the e-commerce market more smoothly, so as to make "Liweisi" hair products become popular brands more quickly.