Zhongshan Jiali's new corporate website is newly launched
ZHONGSHAN JIALI FINE CHEMICALS CO.LTD.
---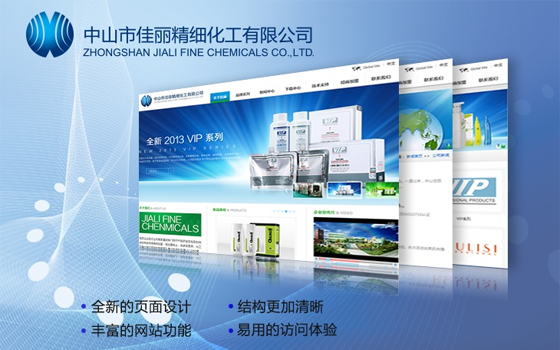 In order to provide customers with more convenient services and a more massive and enriched product information platform, so that customers who have long been concerned about and supported Zhongshan Jiali have a better understanding of us. After careful planning and preparation, the corporate website of Zhongshan Jiali Fine Chemical Co., Ltd. is located in It was officially launched on May 22, 2013. The purpose of the revision of Zhongshan Jiali's corporate website is not only to update and increase the plate, but more importantly, it establishes a closer bond between customers and the company, which will bring customers a one-stop shop The attentive service and the brand-new hair product inquiry experience. This website revision will show customers a new page design, rich website functions and convenient services. The revised website has richer content and clearer structure. The "Brand Series" column will provide users with the classification and integration of related products, and the concise browsing experience will enable customers to quickly obtain the information they want, so that customers can understand all the hairdressing products sold by the company at a glance; the "Technical Service" column It will provide users with more and more comprehensive product application solutions; the "Information Feedback" column will share and exchange experience with users. The new version of the corporate website has fully demonstrated the corporate culture of Zhongshan Jiali. Zhongshan Jiali has a high-quality technical team and a strong strategic alliance in this field, and operates in strict accordance with international standards and management models. With excellent production quality and perfect after-sales service , continue to provide customers with the most satisfactory products and services.
After this revision, Zhongshan Jiali will use this platform to provide customers with better services. If you have any comments, you are welcome to leave us your valuable comments in the information feedback section of the website. I hope the new website can bring you more comfort and ease. Use the visit experience!